Surf

N

Development

LOCATED IN THE CHATTANOOGA SOFTWARE CENTER

Developing internet systems & software

since 1996...

with exemplary results.

A complete business management system usually includes a dozen or more programs. Your industry, and unique business requirements determines which computer programs should be combined to complete your seamless software system. Our programs are created with the new technology standards established by American Universities, and each performs specific services. When elements are combined, the resulting Complete Business Management System far exceeds the patchwork usually found from trying to combine software.

For example our Business Email Management System handles email communications and prevents virus invasion while automatically filing each email and attachment into the contact record matched by the address.

This software has been in use since 1999 in our larger and smaller client's operations. SurfN's inventory of established programs allows us to create a very high quality complete software system for you in a relatively short period of time and at a low cost.

All of these programs have fundamental features and benefits which are superior to the software products which are common today. Each element stands alone as a completed program. However it becomes substantially more beneficial when assembled into a complete system. Some of the programs are listed below.

SurfN Accounts Payable
This system will allow creation of purchase orders or entry of vendor quotes followed by vendor bills.

It will maintain the complete audit trail with history attached to your vendor database and follow through with the ability to batch print checks automatically using recent model ink-jet or laser printers.

You may generate checks and reports based on accounts payable and/or posted manual checks directly against the appropriate vendor bill.

Reports will include various summaries and accounts payable forecasting.
SurfN Accounts Receivable
This system allows the creation of sales quotes followed up by customer orders, followed by invoices and attaches appropriate history to your customer database.

Income may be posted as deposits directly against invoices or other income.

Reports will include aging receivables as well as custom creation of reminder systems and account status summaries.
SurfN Financial Summary & Detail Reports
Financial reports include; trial balance sheet, profit and loss statements, balance sheet, and other specific reports which may be generated for specific history.

These are created to specifically address the needs of our Client.

The flexibility of this software designed client-specific, ensures intuitive design, ease of use and custom reporting.

Formatting and layout modifications may also be included to produce a general display or printed look and feel.
SurfN General Ledger
This system allows for debit and credit adjustments.

and to make accounting adjustments or corrections to your ledger account balances.

Typically it is used regularly at first, until the bank reconciliation and other tools are used to properly post transactions.

The computer accumulates debits and credits in real-time, minimizing the need for manual adjustments.
SurfN Job Costing Manager
Track job or project costs with this module.

Each line item may be drawn from Vendor Bills, Payroll, or entered as an adjustment at any time.

The line item GL accounts and description tags allow easy input.

Once the information has been posted the user may generate real-time reports and analysis of progress to assure a profitable outcome.

Modifications may be made at any time with proper authority and a history is written to the customer record for easy reference.

Prices of materials and labor may be drawn from the customer record, the purchasing record, or both to assure up-to-the-minute accuracy.

View job cost in summary and detail before, during, and after the job with a simple mouse click.
SurfN Payroll
This system provides an employee database with related payroll and communication information.

It allows for posting payroll checks and transactions along with their associated tax filing and management reports.
SurfN Payroll Time Clock
This system provides a simple screen interface which an employee may use to clock in and out.

Any of the enabled screens will permit the procedure, or only certain screens may permit 'clocking in' as predetermined by management.

The system may also deliver a memo as posted on the electronic bulletin board for all employees to view at the time they clock in or out.

The resulting time recorder feeds directly into the SurfN Payroll system when included and provides an accurate measure of time spent.

Other SurfN systems which may be a part of the employees job activities may become a seamless part of this SurfN Payroll Time Clock providing detailed reports of activity and non-activity.

The real time logs allow reports of which employees are 'on' and 'off' the clock at any time, as well as recent history.

This system provides a good basis for additional SurfN Systems such as employee communication and training programs which may be added.
SurfN Advanced Database Search
This system enables the user to search and generate reports from the largest databases in many different ways.

By using clever 'range' selects with multiple 'filters' the resulting summary or detail information from an extensive database can be quickly pinpointed.

Hundreds of fields with information like; price, location, size, costs, description, features, zoning, categories, types, and so on, may be included.

Since this pure programming code meets American university protocols and operates within real UNIX systems such as our Sun Microsystems Solaris, the complex calculations necessary may be performed and produce results within a few hundredths of a second.

The database searched may be imported from almost any source and migrated or compared with other data for cleaner results.

This system has two distinct sides - one for the Public, and one for the Client.

The Public search is limited to the information deemed appropriate for the Public.

The Client-side search is secure and may permit the searching of additional data and may provide details in results which are not available to Public access.
SurfN Chunk Data Manager
This system provides a management and storage device for chunk data files.

It allows for secure, browser based upload of chunk files which would be on a PC.

The organized storage protocol allows the upload user to determine which other authenticated access user may download the uploaded file.

When used in conjunction with the properly enabled Contact Manager, files can be associated with the appropriate contact and stored as a part of the permanent contact history.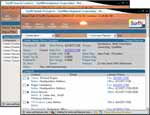 SurfN Contact Manager
This is a management system for contact information and correspondence specifically relating to the needs of providing efficient and effective customer service, and management of prospect-to-customer development.

It stores the information you enter and organizes it for easy access and maintains a communication history.

You can group contacts and filter users to access only certain groups such as; Prospects, Customers/Clients, Vendors, Employees, etc..

You can further categorize by Location, Type, or many other ways.

Communication history as well as merchandise/services ordered or delivered may be tracked and attached from Vendor right-through-to Customers/Clients and revenue may be reverse tracked right-back-to the Vendor.

Communications tools include: Fax, Letter, Memo, Templates, Contracts, Agreements, Sales Quotes, Applications, Email and other 'pipes' which are maintained under management layers and automatically write to history for contact specific communications trail.

It integrates with many other systems to provide a seamless transition of information and allows you to review all order, revenue and communication history easily listed below the contact record with detail popups.

Templates and automatic fax covers permit administration controlled formatting for all written documents.

Full revenue and accounting tracking will require the appropriate Accounting & Inventory systems.
SurfN Customer Call Center
This is a customer request management system which provides a database of all active customers and allows quick, easy entry of new customer information.

These devices are designed specifically for service representative situations where receiving and making calls and scheduling responses must be quick and sure.

From this device center you can quickly see customer history, create new orders, equipment contracts, service agreements, preventive maintenance agreements and review financial information.

This system is especially useful for service operations because all information is keyed to addresses and locations of customers, equipment etc.

Multiple locations with individual history will provide the details necessary to provide the best response and customer service.
SurfN Email Broadcast Manager
The primary use of this tool is to send a message, question or survey to a group of recipients defined by an existing Contact database.

The system will seek email addresses from an existing net based contact database and create a 'group' from the search and rule set results.

From there the message, question or survey is delivered to each and every recipient by bouncing off the list of address.

This allows the administrator to maintain the privacy of the participants in the loop.

A separate 'exclude me' list is maintained so those who opt out may be removed and kept out of future additions to the list.

Mailings are identified and maintained providing a clear history of communications for future reference and management.

The privacy of the participants is key and allows high ranking individuals to participate without the consequence of revealing their private email addresses as CC and BCC methods do.

Also the built in management tools permit a list manager to prevent accidental inclusions and provide an audit trail of communication activity.
SurfN Events Calendar Manager
This module permits users to easily maintain a calendar of events or activities.

The resulting search system is very user-friendly and will display for public, private, or secure internet access to the database.

The 'display results' manages data for easy reading by completing such tasks such as; formatting, sorting, removing outdated and limiting future entries for quick page loads and may even include a filter by type function.

The output may be in 'list form' or 'calendar grid form' determined by Client at the time of development.

The multiple user interface allows individual users to each maintain their own group of events while protecting 'user' data from 'other user' updates.

It allows multiple points of entry through Secure Internet Interfaces.

When this system is utilized as a manifold product the results may be magnified by broadcasting events data to other web sites which results in increased web presence and additional links returning to the source domain.
SurfN Facility Events Manager
This state-of-the-art system allows our Client to delegate simple procedures and scheduling with the protections built in for managing Outdoor Areas, Rooms, and Resources.

High quality conflict protection is built in throughout the system with automated reminders and daily duty checklists both on screen and as printable forms.

This UNIX based software delivers global access via an AT&T Private Network which will allow the most advanced communications, reporting and Customer Service features.

Redundancy and Security insure records from being lost such as in a local area network situation.

Facility requests may be received by internet, phone, fax or letter, and written into the incoming request database for future coordinating and placement.

Built in calculated reports help result in scheduling solutions for difficult situations.

Once events are scheduled they may be defined as public or private and may be categorized for future analysis.

For public events the administrator may enable automatic internet promotion with broadcast emails, web page events calendar posting, and fax covers or letters for news media and corporate notifications.

Private events may be coordinated with companies, organizations, or churches to provide a chargeable service of delivering notices, reminders or checklists to their user group.

If permitted, corporate schedulers and church groups may check on availability and make requests via the internet.

Facility promotional newsletters may be net based when email addresses are available saving on printing and postage as well as provide web based content for ongoing reference and responses to surveys or questionnaires.

When teamed up with Contact Management System and Accounting, volunteers, staff or managers may utilize quick lookups when calls come to view a full communication, accounting and services history.

Specific items may be ordered for facility users from vendors and costs attached at time of order.

Follow-up will be easier with; template letters, label makers, faxes, memo's and email communications all of which automatically writh to the contact history and may be viewed in a variety of simple reports.
SurfN Flat Rate Pricing
This system will provide a way of estimating and tracking the costs associated with specific customer requests.

The associated Inventory Management database may include parts & equipment with vendor costs and customer pricing information.

These tools may be used to generate reports associating costs, estimated and realized, by customer, job, date range and other ways.
SurfN Business Email Management System
This is an Internet based, database driven email management system.

It provides a high-security way of managing email communication without the risk of viruses.

This system puts the management team in authority over email activities related to company operations.

If an employee leaves your company, the email communications directed to them can be automatically redirected to another employee by management.

Addresses may be added or removed on-the-fly by our Client.

Messages are accounted for and each viewing is recorded.

Attachments identified that could contain a virus are 'download forbidden', protecting the LAN from viruses.

This 'prevention' approach is superior to the 'repair' approach which attempts to fix or isolate viruses which have already been received.

Based on system usage history, over 99% of all email attachments are delivered unobstructed to your staff.

In the event of a 'suspicious' attachment the system is designed to err on the side of caution, not permitting download.

In this case the sender may be contacted to reformat the attachment or send in a non-threatening configuration.

SurfN System Service staff is available to provide assistance in these situations.

Messages sent to or received from a client can be archived in that client's file or attached to their contact record, when the SurfN Contact Manager is being utilized, for historic information.

A simple address book is provided for ease of use and staff convenience.

Access to the email database as well as activity is available from any net capable computer which can achieve an appropriate secure connection.

The messages are stored in the SurfN Server Equipment instead of downloading to risky PC or laptop drives.
SurfN Website Content Manager
Once discussions are underway, information and graphic image material is acquired from our Client.

SurfN then produces a 'Platform' for establishing the general direction for the 'look & feel' of the public side of the new internet system.

Once the 'Platform' is populated with header and footer information, SurfN further programs the system to manage the data provided by our Client.

From this initial beginning, the system provides user tools for updating content anytime by even the Client's mid-level staff member with basic computer skills.

Using Authenticated Security, these devices will permit different members of our Client's staff to manage different areas of content, or when contracted separately, SurfN may provide an experienced content manager to get the system up and running.

The SurfN Client Services staff will introduce and train on these easy to use devices.

The system manages content input by Client so that established protocols are met to insure a quick, clean and consistent display of information.

The web site itself will begin to take shape and become more attractive as more content is loaded and polishing tweaks continue.

Written content for information pages must originate from our Client and conform to generally accepted categories like 'About Us' and 'Our Location' or 'Our Expertise', etc.

Graphic images which are provided for the web site will be adapted to insure faster loading web pages and compatible colors.

We will provide training so that our Client will have sufficient knowledge to upload and manage photos, logos and other graphic images using the simple web based content management tools.

The ongoing system service will provide the upgrades and training necessary to keep insuring new standards are met.
Task Delegation Manager
Time management and employee productivity are the first concerns of a good manager.

Simplify your delegation process with the Task Delegation and Management System assign tasks to employees and know that they are completed in a timely fashion, avoid complicated paper trails and possible miscommunications, and prioritize programmatically.

This device allows employees to utilize their own personal, secure task manager while also providing administrative access to review, reassign and follow-up on completed tasks.

In addition, the tasks are archived upon completion for historic review and reporting with the properly enabled modules.
SurfN Equipment and Warranty Manager
This database management system maintains all equipment and warranty information by location.

Mulitple equipment items per location and multiple locations per customer may be easily understood.

Individual comments and notes may also be useful to assure the dispatched responder to quickly get down to the business of servicing your customer needs.

Warranties and extended warranties may be managed well with this system.
SurfN Service Contracts Manager
This system allows you to establish rules for service agreements and preventive maintenance agreements such as start date, expiration date, representative, and type, which may include certain work performed and exclude certain work.

The discounts or base charge may be set.

Once entered the database of contracts may be accessed and renewal or upgrade letters may be generated.

Management reports will provide a clear overview of active service agreements as well as upcoming expiration, etc.
Online Shopping System
This is a system designed for convenient display and sale of products through a website.

Designed to be user-friendly for both the purchaser and the seller, this tool streamlines the process of selling your products.

Built with the highest security protocols, the integrity of your operation will be well protected from data theft, data loss and vandalism.

Your customers' personal, financial information is protected.

Also, your product information is protected.

This system integrates with Contact Management, Inventory Management, Account Systems and other tools to make up a seamless system for your business.
SurfN Inventory Control
This module can maintain parts and supplies with related vendor costs and customer pricing information.

It may be used to track both price and availability.

Reports and search will reveal inventory at various 'Pipes'; 1) Incoming, 2) On Hand, 3) Delivering.

Value added calculations will provide information for accrued basis accounting needs.

This component may be teamed up with Accounts Payable and Orders Management systems for real-time inventory control and product availability.
SurfN Inventory Management
This module can maintain parts and equipment with related vendor costs and customer pricing information.

It may be used to track both price and availability, historic lag times and ETA's.

Reports and search will reveal inventory at various 'Pipes'.

1] Incoming Pipe - which is the ordered product confirmed with estimated delivery dates.

May be filtered by shipped/not confirmed/not and permits dynamic updating as conditions and expectations change.

2] On Hand - which is the inventory when confirmed received.

May also be considered in sub 'Pipes' when value added calculations are appropriate.

check in or other verification method.

3] Delivering - which is the inventory that has been confirmed as shipped with estimated 'in route' times and target delivery.

From these reports may be generated to determine best supply sources, identified and flow rate, etc.

When teamed up with Accounts Payable and Orders Management systems for real-time inventory control and product availability.

Orders may be attached to customer history as early as a Sales Quote and compared to Purchase Orders to maximize product flow.

Inventory updates such as; costs, product availability, specifications and more may be taken from existing sources or obtained electronically from OEM/Vendors when available.
SurfN Membership Dining, POS
This system facilitates and streamlines communications between your serving staff and kitchen, bar, entertainment or other areas by the simple inclusion of a monitor display or printer.

Touch screens or mouse driven inputs feed directly to the centralized database.

Front-of-house service may bring forward customer information or product availability and provide order or other dining room related information to back-of-house production and office with an error reducing order entry screen.

The menu as well as preparation choices may be pre-loaded and defined in as many way as you choose.

With intuitive interaction and simple screens, training time and expense is kept low and may even be implemented in stages.

With the SurfN accounting systems available, a real-time feed to and from your accounting information will allow management oversight and real-time reporting.

This POS system utilizes mainstream computers, monitors and printers as well as other common devices so there is no need to buy or lease expensive proprieterized equipment which may soon become obsolete.
SurfN Order Management System
This system delivers the information used to manage and keep track of customer orders, generate reports and print forms such as packing slips and receipts.

When teamed up with the Contact Manager the user specific reports will permit management and oversight of sales activity while providing summary reports for forecasting and strategy decisions.

This system can also generate automatically within the accounting system and accept payments as well as real-time checking of product/service availability.

Flags may be used to alert to Customers/Clients which are at marginal profitability or should receive favorable treatment.
SurfN Dispatch
Dispatch is used for prioritizing and scheduling installation, maintenance, and repair services as well as part and product delivery or other customer requests.

This will provide tracking and seamless integration with Accounts Receivable and other accounting systems.

The real time nature of this system allows operators to manage communications very well and allows management to have instant supervision of activity from within the facility or at their secure connection.

Lookups are quick and clear and customer orders may be printed directly from this system in batch.
SurfN Scheduling
This scheduling calendar is net based for 'anywhere access', and allows delegated entries as well as multiple participant selection which automatically writes to the history of contacts within the contact management database.
The Show schedule selection will also include information such as Left-for-return calls and previous business which is incomplete.

Schedule items such as; Deliver a letter, To Do a task, Meetings, Fax something, etc.

When the management filter is permitted, it allows a team to view each others scheduled items to check on available times and coordinate activities.
SurfN Authenticated Security Access
This will provide the control devices allowing your system to be operated within a secure environment.

This module provides a high level of protection from unauthorized attempts to access your system.

Our Client permits authorized access to areas within well defined barriers.

Security protocols established with AT&T, Cisco, Sun Microsystems and SurfN provide individual control within specific areas.

Client specific barriers may be added for the highest security.

Using Secure Server Technology and Authenticated Identification, this software monitors access attempts.

SurfN Development, Chattanooga Software Developers
3821 Saint Elmo Avenue, Chattanooga, Tennessee 37409, 423-821-3463